---
Tänk så många ställen man hamnar på i jobbet! Plötsligt blev det Oslo hastigt och lustigt. Där var kallt och ruggigt med snö som rasade från taken, så trottoarerna var avspärrade.
Det trevligaste med Norge är dialekten tycker jag! Tog en bild för ordningens skull på ett fint hus. Tänkte gå fram och titta vem mannen var som stod staty men så glömde jag alldeles bort det…
Väl hemkommen var det semmeldags igen – nu blev det en i mera normal storlek. Fettisdagen är en trevlig dag! Jag såg inga semlor i Oslo – har de inte det?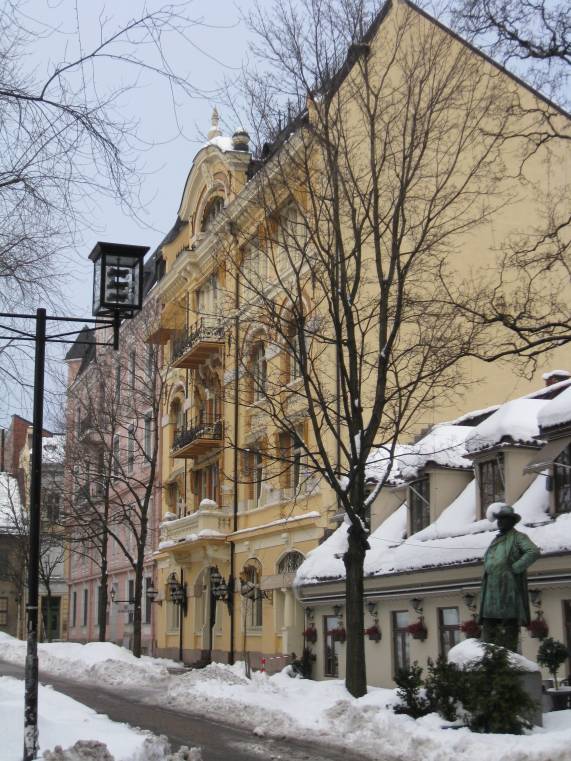 3 Responses to "En dag i Oslo"
HeatherJ Says:
februari 25th, 2009 at 09:56

No semlor in Oslo??? We'll we're never moving there.

The picture is great!

Åsa! Says:
februari 25th, 2009 at 14:32

Norska är så vackert! Roligt att få resa runt och se lite andra platser här i världen! Jag som mest åker mellan Klinte och Hemse:( blir lite småavis, fast bara lite. Jobb är ju något som till stor del faktiskt är självvalt!

Katarina Says:
februari 25th, 2009 at 17:21

Heather: Nej, Oslo får nog vara…
Åsa!: Du det kunde varit värre! Jag vet och ser på dina bilder att du har det väldigt vackert omkring dig!
Leave a Reply